African Peace and Security Annual Conference (APSACO) 6th Edition: African Security in Times of Uncertainties
From
To
Add to Calendar
2022-07-20 14:00:00
2022-07-21 17:10:00
African Peace and Security Annual Conference (APSACO) 6th Edition: African Security in Times of Uncertainties
Description
Location
Policy Center
Policy Center
Africa/Casablanca
public
By invitation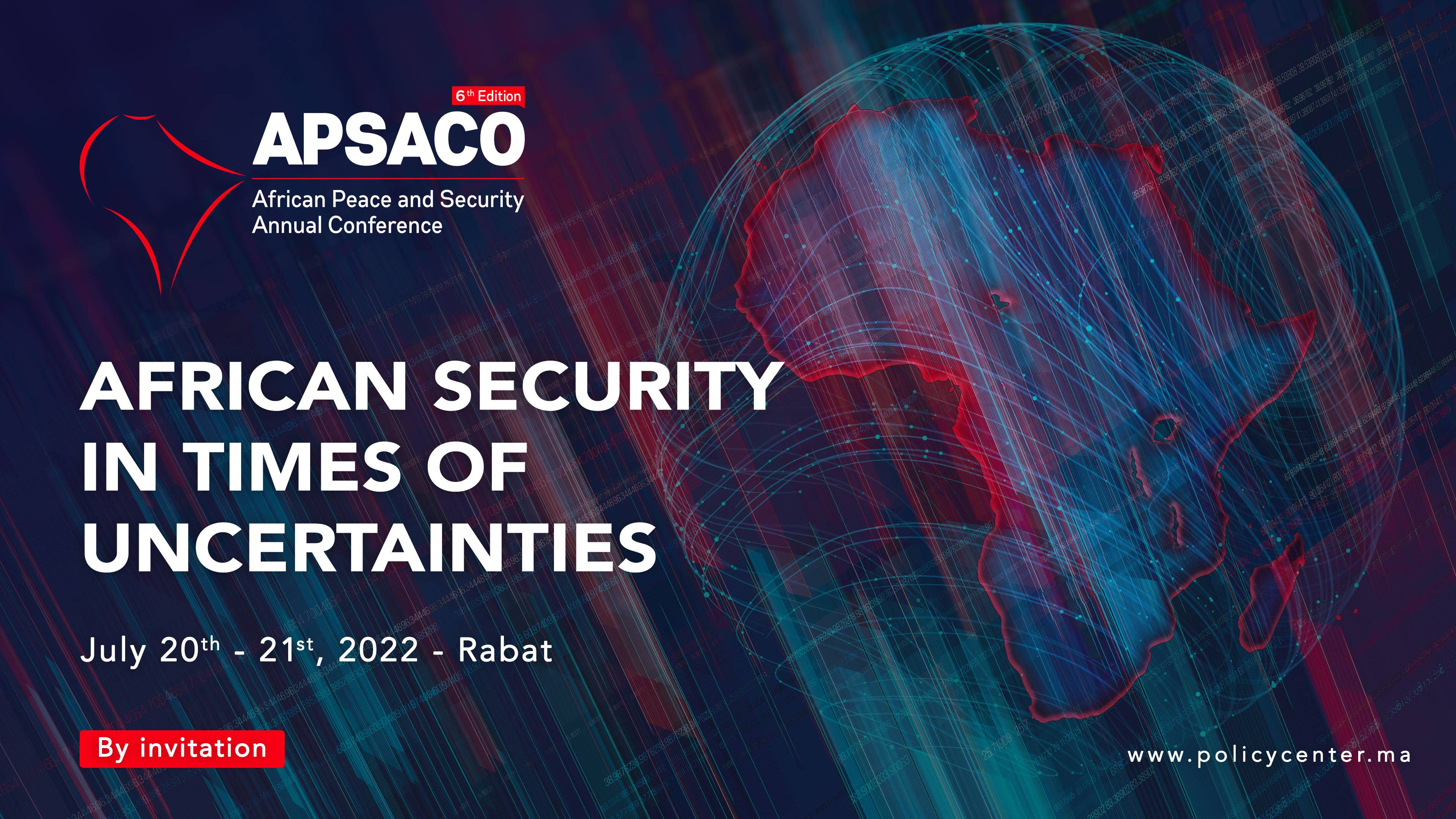 2021 was a year of global geopolitical disruption and geo-economic upheaval. As events gather momentum, the world enters a period of geopolitical and geo-economic transition; the end of one historical cycle foreshadowing the uncertain prospects of a new one. We are henceforth, in presence of a true global shift with multiple pressure points and driving geopolitical, economic, climatic, technological, security and health-related forces.
The African continent, which over the past two decades pursued a process of diversification of economic, political, and military partnerships at State and institutional levels – both continental and regional – stands to be affected to varying degrees. Indeed, global economic conditions combined with Africa's structural challenges exacerbate underlying trends with irreversible geopolitical consequences. First, the war in Ukraine occurs at a time when the global geopolitical stage is fraught with China-U.S. tensions and difficulties in defining new world order leverage points. It therefore becomes a stake in an already entrenched dynamic sustained by a logic of optimal solution (minimum cost-maximum benefit). Next, food security in Africa is jeopardized. The capacity to securely access sufficient food is severely impacted by the sequence of conflicts, natural disasters, and epidemics.  Additionally, climate change increases conflict risk in several areas by further exacerbating existing social, economic, and environmental factors. Populations in these areas are among the most vulnerable to the climate crisis and the most neglected by climate action. Finally, the institutional weakness and instability of several States are major obstacles in the fight against violence and poverty.  Overcoming this vulnerability, in its economic and environmental dimensions, is a vital priority for Africa.
This state of affairs begs a few critical questions:
What are the repercussions of war on African States in terms of struggles for influence on the continent as well as economic, military-security and diplomatic constraints? What individual and collective resilience and affirmative strategies should African States pursue in the face of this situation? What implications are there for food insecurity in Africa? How can Africa's food security be improved? What challenges does climate change entail for Africa? What specificities do fragile states have in Africa?  How to sustainably strengthen States in post-conflict contexts?

Sessions :
The impact of the Russia-Ukraine war on Africa
Russia's military engagement in Ukraine has very quickly become a major post-Cold War global event. The question is to what extent will this event alter global strategic arrangements and impact Africa?
Conflict resolution and peacebuilding in Africa
Conflict resolution and peacebuilding are at the heart of the ongoing debate on security and development in Africa. Mastering both processes requires a better understanding of the nature of conflicts, the mechanisms of resolution and the conditions for sustainable peace. This panel will shed the light on the importance of conflict resolution and peacebuilding processes in solving the problem of conflicts in the continent.
Security implications of climate change in Africa
Climate change is a threat to human security, generating multiple vulnerabilities and exacerbating social tensions. This panel will examine the correlation between climate change and conflicts.
The worsening of the food security challenge in Africa
Africa is at a pivotal juncture, demanding careful consideration of measures needed to strengthen food security for its people. This panel will therefore examine Africa's resilience to the enduring challenge of food security in the wake of the Russia-Ukraine war.
African fragile states in times of uncertainty
State fragility remains a major obstacle to stability in Africa. This panel will reflect on how best to deal with post-conflict situations and discuss the right approach to help fragile states rebuild sustainably.
Report Discussion: Annual Report on Africa's Geopolitics
The Policy Center for the New South is launching the fifth edition of the Annual Report of Africa's Geopolitics. This new edition will focus on the continent's socio-political and security situation in 2021. This year's retrospective work on Africa aims not only to recount last year's highlights but also to detect trends and weak signals, through diverse analyses, so as to forecast future developments on the continent. The book gives a voice to African authors to develop an African narrative on the continent's affairs. The aim of this publication is not to give Africa an artificial embellishment; however, its ambition is to describe Africa as it is; with its setbacks, but also its progress, ambitions, and opportunities. The report is in line with the Policy Center's vision of a new South; a South that is aware of its limitations and vulnerabilities, yet strong because of its potential, means, and genius. This vision also advocates for the South to position itself in an ever-changing world.
Simultaneous translation in Arabic and French available.  
For more information, please reach out to Zakaria Jouhari, Partnerships Manager, at: z.jouhari@policycenter.ma.
July 20th, 2022

14h00-14h30 

Registration & welcome coffee

14h30-14h40  

Opening remarks
- Rachid El Houdaigui, Senior Fellow, Policy Center for the New South – MOROCCO

14h40-15h10

Keynote address
- Bankole Adeoye, Commissioner for Political Affairs, Peace and Security, African Union Commission – NIGERIA
- Fouad Yazourh, Ambassador, Director General of Bilateral Relations and Regional Affairs, Ministry of Foreign Affairs, African Cooperation and Moroccans living abroad – MOROCCO
- Lieutenant General Daniel Sidiki Traoré, Force Commander, United Nations Multidimensional Integrated Stabilization Mission in the Central African Republic (MINUSCA) – BURKINA FASO

15h10-15h55

Panel 1:  The impact of the Russia-Ukraine war on Africa

Chair:
- Bakary Sambe, Regional Director, Timbuktu Institute - African Center for Peace Studies – SENEGAL

Speakers:
- Andrea Grazioso, Senior Analyst, NATO Strategic Direction – South Hub – ITALY
- Major General Francis Ofori, Commandant, Kofi Annan International Peacekeeping Training Centre, KAIPTC – GHANA
- Licina Simão, Coordinator, Atlantic Centre – PORTUGAL

15h55-16h25

Discussion

16h25-16h45

Coffee Break

16h45-17h30

Panel 2: Conflict resolution and peacebuilding in Africa

Chair:
- Leon Hartwell, Senior Advisor for the Central and South Eastern European Programme (CSEEP) at IDEAS, London School of Economics – USA

Speakers:    
- Jalal Abdel-Latif, Senior Fellow, Policy Center for the New South – ETHIOPIA
- General Birame Diop, Military Adviser, Office of Military Affairs, Department  of Peace Operations, United Nations – SENEGAL
- General Mohamed Znagui Sid'Ahmed Ely, Head of Defense and Security Department, G5 Sahel – MAURITANIA

17h30-18h00

Discussion

19h30-21h00

Dinner

July 21st, 2022

10h00-10h45

Panel 3: The worsening of the food security challenge in Africa
Chair:
- Eniola Mafe, Founder/ Principal, EMA Advisory and Lead for 2030Vision Initiative – NIGERIA

Speakers:
- Mohamed Ait Kadi, President, General Council of Agricultural Development – MOROCCO
- Michael David Terungwa, Founder, Global Initiative for Food Security and Ecosystem Preservation – NIGERIA
- Hamza Rkha Chaham, Co-founder and Managing Director, SOWIT – MOROCCO

10h45-11h15

Discussion

11h15-11h30

Coffee Break

11h30-12h15

Panel 4: Security implications of climate change in Africa

Chair:
- Serge Daniel Gbogbohoundada, Journalist and Writer – BENIN, FRANCE

Speakers:
- Yonas Adaye Adeto, Commissioner, the Ethiopian National Dialogue Commission – ETHIOPIA
- Fatma Ahmed, Capacity Building Specialist, United Nations Development Programme (UNDP) – SWEDEN
- Rama Yade, Senior Director, Atlantic Council Africa Center – SENEGAL, FRANCE

12h15-12h45

Discussion

12h45-14h15

Lunch Break

14h15-15h00

Panel 5: African fragile states in times of uncertainty

Chair:
- Badreddine El Harti, Chief, Ceasefire Monitoring Component, United Nations Support Mission in Libya (UNSMIL) – LIBYA

Speakers:
- Younes Abouyoub, Director, Governance and State-Building (MENA Region), United Nations – MOROCCO, USA
- Fadel Sereme, Specialist in organizational engineering and planning & Expert in marketing management and conflict management – BURKINA FASO
- Gilles Yabi, Founder and Executive Director, WATHI – BENIN

15h00-15h30

Discussion

15h30-15h45

Coffee break

15h45-16h30

Report discussion: Annual Report on Africa's Geopolitics

Keynote:
- Abdelhak Bassou, Senior Fellow, Policy Center for the New South – MOROCCO

Chair
- Nchimunya Hamukoma, Head: Funder Partnerships & Strategic Projects, Harambee Youth Employment Accelerator – SOUTH AFRICA

Speakers:
- Nezha Alaoui M'Hammdi, Senior Fellow, Policy Center for the New South – MOROCCO
- Lassina Diarra, Researcher and Consultant, Centre for Strategies and Security for the Sahel Sahara –  IVORY COAST
- Sâ Benjamin Traoré, Professor of Law, Faculty of Governance, Economics and Social Sciences, Mohammed VI Polytechnic University (FGSES-UM6P) – BURKINA FASO

16h30-17h00

Discussion

17h00-17h10

Closing remarks
- Karim El Aynaoui, Executive President, Policy Center for the New South – MOROCCO