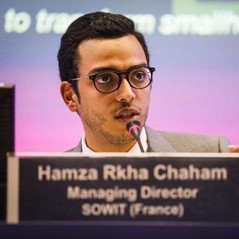 Hamza Rkha Chaham
Morocco
Co-founder and Managing Director, SOWIT
This individual is not a direct affiliate of the Policy Center for the New South. They have contributed to one or more of our events, publications, or projects. Please contact the individual at their home institution.
Hamza is the co-founder of SOWIT, a start-up providing decision support systems to African farmers. He is a 2018 Marshall German Fund and Policy Center for the New South Emerging Leader.
SOWIT is incorporated in France, Morocco and Senegal and leverages all the power of remote-sensing, AI and agronomy to provide key insights to farmers enabling them to optimize crucial operations such as fertilization or harvest.
Hamza is co-author of the landmark report published by the African Union entitled "Drones on the horizon: Transforming Africa's Agriculture". The report forms the basis upon which the AU Executive Council issued the Decision  EX. CL/Dec. 986-1007 (XXXII), recommending all Member States harness the opportunities offered by drones for precision agriculture.