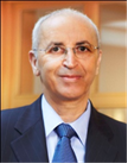 Mohamed Ait Kadi
Morocco
President, General Council of Agricultural Development
This individual is not a direct affiliate of the Policy Center for the New South. They have contributed to one or more of our events, publications, or projects. Please contact the individual at their home institution.
Pr. Mohamed Ait-Kadi is currently President of the General Council of Agricultural Development. The Council is a high-level policy think tank of the Ministry of Agriculture, Fishery, Rural Development and Forestry in Morocco where he has also served as Secretary General and Director General of the Irrigation Department. He is President of the Scientific Committee of the Foundation AAA (Adaptation of African Agriculture to climate change)
Mohamed is a member of the Hassan II Academy of Science and Technology and Professor at the Institute of Agronomy and Veterinary Medicine Hassan II. He is also a member of the Academy of Agriculture of France, Oslo International Water Academy and the International Advisory Panel of the Bioeconomy World Summit..