Helping One Million Refugees – How to Use Technology to Facilitate Integration in Germany
Twice in the past decade the term "largest refugee movement since the Second World War" was coined in Germany and Europe. First in 2015 with many refugees from Syria, Iraq, Afghanistan, and Iran arriving and seven years later in 2022 when the war against Ukraine led millions to flee towards the West. Now, Germany has grown to become the fourth largest refugee hosting nation, having welcomed 2.1 million, of the world.
Refugees and migrants arriving in any new country face a significant challenge understanding local processes, support programs, and the culture as a whole. Even if the local integration 'infrastructure' - such as counselling services and support programs - exists, potential beneficiaries have a limited knowledge of these offers. Germany would be a prime example of a country where this is the case as its history of an immigration country has led to the establishment of many social services designed to support newcomers and integration. Our answer to this challenge is the digital integration platform Integreat - a smartphone app, website, and printable brochure in one central solution for newcomers to get all necessary information.
Our Approach – a Collaborative Platform Called "Integreat"
With the dissemination of smartphones in the 2010s, a new dimension was made available to reach refugees at scale. Smartphones are crucial devices for refugees during their flight. They can facilitate connection to their families and to others on the move, thus helping them communicate and gather relevant information during their journey. However, what was and still is missing is understandable and trustworthy information on the refugees' host countries. Governmental institutions and NGOs struggle to communicate with arriving refugees because of the language barrier and had not solved this challenge.
This is where Integreat comes into play. Integreat is a central, one-stop-shop to garner all relevant information for one to settle and live in a given city. The local content is created by public administrations and NGOs on site which is then translated and made available via the Integreat-Apps. Refugees get up-to-date information from local experts and are enabled to make well-informed decisions upon their arrival in a German city.
Figure 1: The Integreat Smartphone App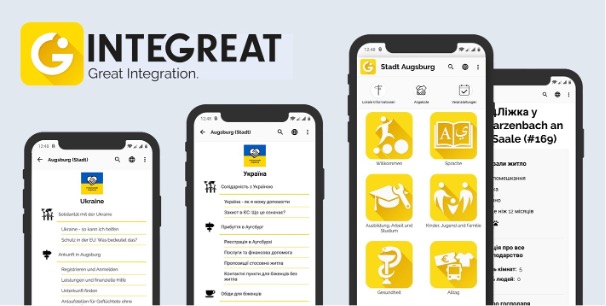 Integreat has been implemented by every fourth of Germany's 400 municipalities. Each time, the public administration gathers all relevant local stakeholders to bring Integreat to life with locally relevant information, creating a transparent overview of all integration-related offers, regulations, and opportunities. We do not only supply and further develop the digital platform but support the implementation of Integreat in a project management role, where we co-organize local workshops together with the municipal administrations and help with planning of all steps to launch Integreat. We also regularly bring the local Integreat administrators together to share knowledge and best practices.
Integreat has been accessed over 3 million times in the past year. When the war against Ukraine started, and hundreds of thousands of refugees had to flee, cities who already had implemented Integreat were able to quickly add their response for Ukrainian refugees and make this content available in Ukrainian and Russian. Access numbers for these languages show how important Integreat was for refugees in the early months upon arrival in Germany.
Figure 2: Access Numbers in the two cities Munich and Augsburg as an example and total access numbers across all Integreat-municipalities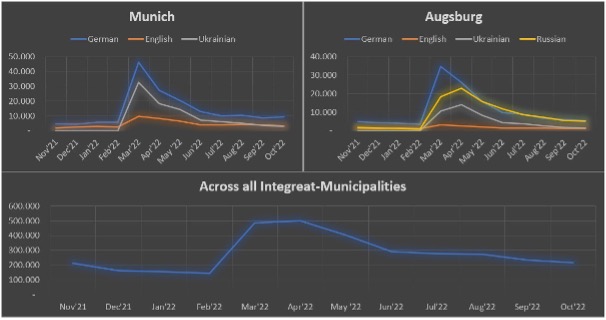 Source: Integreat
 The Rise and Fall of "Refugee-Tech" in Germany
Germany has also become the centre of the innovation movement "Refugee Tech". Promptly after an unprecedented number of refugees arrived in Germany in 2015, many digital solutions were launched to support them upon their arrival to Germany. A study from the betterplace lab [AZ1] identified over 100 such projects all over Europe, two thirds of them being launched in Germany. They ranged from providing information such as Integreat, to job market sites, online classes, and matching platforms for refugees and locals to interact and learn the language among others. But many projects were not to last.
A second study from betterplace lab has been carried out in 2019 showing that only 42 % of the 180 projects were still operating three years later and indicating further decrease. It is in order to honestly evaluate what technology might be able to do in the field of humanitarian assistance and integration of refugees and what it just cannot. Many new projects were highly dependent on voluntary engagement which always drains over time. Financial funds oftentimes are not available to continue projects, they are restricted to be used for new ones. Most crucial is the inability or unwillingness to fit into the existing landscape of integration activities from governmental or non-governmental stakeholders.
Success Factors for Digital Solutions in the Field of Integration
What we believe to be crucial success factors of Integreat and other Refugee Tech solutions were shared characteristics and values: transparency, collaboration and scalability.
Integreat is developed fully open source, even the content created on the platform is creative commons licenced. So even if our organisation was not to succeed the platform could be continued by municipalities or other organisations. Integreat is brought to life locally by all relevant stakeholders in a collaborative effort. This leads to great acceptance of the service providers and refugees as users alike. Making content creation and marketing the task of the local integration stakeholders increase the scalability of the information platform because it enables us to keep our organisation slim with the major focus to develop the digital components and facilitate knowledge transfer between the municipalities.
Outlook
What are we looking to do with Integreat? We are looking to build a digital ecosystem of several digital applications which may look like the Google suite. Such ecosystems consist of multiple applications with a clear purpose for each single one and good communication among each other (Gmail, Drive, Calendar, Docs etc.). C
A housing platform for municipalities has been launched to match housing offers from the host society to refugees. The Integreat Compass will contain all job-market-integration offers within a municipality which will be used by the municipal job agencies to support refugees find a job eventually. An online counselling application powered by real-time AI translation is currently prototyped to help Integreat users find answers beyond the existing content on the Integreat platform.
We aim to bring these innovations into all those municipalities which are already our partners, and bring in those which we have not yet convinced. Ideally, these innovations will also find interest outside of Germany because even if Integreat was built for a challenge we experienced in Germany, it is developed to work all over the world.
Author is an Alumnus of the 2022 Atlantic Dialogues Emerging Leaders Program.
The views expressed in this op-ed are solely those of the author and do not reflect the opinions of the PCNS.