Regards croisés sur la mise en œuvre du NMD - Session I : La gouvernance des réformes
Le Policy Center for the New South organise un cycle de conférences sur la mise en œuvre du Nouveau Modèle de Développement à travers quatre grandes thémathiques : https://www.policycenter.ma/events/conferences/cycle-de-conferences-csmd-pcns-regards-croises-sur-quelques-grandes-propositions#.YY48Fi_pPBI La première session traitera la question de la gouvernance des réformes. Le Rapport sur le Nouveau Modèle de Développement (NMD) a mis cette dernière au coeur de la transformation économique et sociale. Les réformes réclament des interventions simultanées et coordonnées sur tous les leviers. Elles impliquent tous les acteurs, pris isolément et agissant de concert avec les autres. Elles requièrent le suivi des politiques publiques dans la durée. Le rendement et l'efficacité des réformes dépendent du niveau de coordination existant entre les différents départements de l'Administration et entre ceux-ci et les institutions publiques et privées. C'est cette coordination qui assure l'efficacité de la prise de décision, et la cohérence de l'action publique, Comment donc assurer l'amélioration des systèmes de gouvernance, non seulement dans la sphère publique, mais aussi au niveau des entreprises et des collectivités territoriales où nombre de décisions primordiales se prennent quotidiennement ? Comment les méthodes de gouvernance pourront-elles évoluer vers un plus vaste partage des responsabilités dans les lieux de travail et au sein de la communauté pour favoriser une participation sociale dans l'activation du processus de développement ? Comment créer cette indispensable synergie entre les systèmes de gouvernance qui encouragent la responsabilité de la société et l'instauration d'un climat de confiance nécessaire à la réussite d'une économie décentralisée et animée par l'innovation d'une part, et un ordre social plus souple, d'autre part ? Ce sont là quelques questions qui seront débattues dans cet atelier pour éclairer la mise en œuvre des réformes proposées dans le nouveau modèle de développement. Introduction Chakib Benmoussa, Président, Commission Spéciale sur le Modèle de Développement Panel : Gouvernance des réformes Mohamed Benabid, Rédacteur en chef, L'Economiste Ahmed Reda Chami, Membre, Commission Spéciale sur le Modèle de Développement Larabi Jaïdi, Senior Fellow, Policy Center for the New South
Speakers

Chakib Benmoussa
Président de la Commission Spéciale sur le Modèle de Développement
Chakib Benmoussa, est lauréat de l'Ecole Polytechnique et de l'Ecole Nationale des Ponts et Chaussées. Il est titulaire d'un Master of Science du Massachusetts Institute of Technology (MIT). Il a occupé plusieurs fonctions publiques au Ministère des Travaux publics (Directeur de la planification, Directeur des routes et de la circulation routière) et au département du Premier Ministre (Secrétaire général) entre 1995 et 1998. Entre 1998-2002, il passe quelques années dans le secteur privé en tant que Président-délégué de Sonasid, Président de Tanger Free Zone et Administrateur directeur général du groupe Brasseries du Maroc, avant de revenir à la fonction publique au poste de Wali Secrétaire Général du Ministère de l'Intérieur. Il est nommé en 2006 Ministre de l'Intérieur puis ...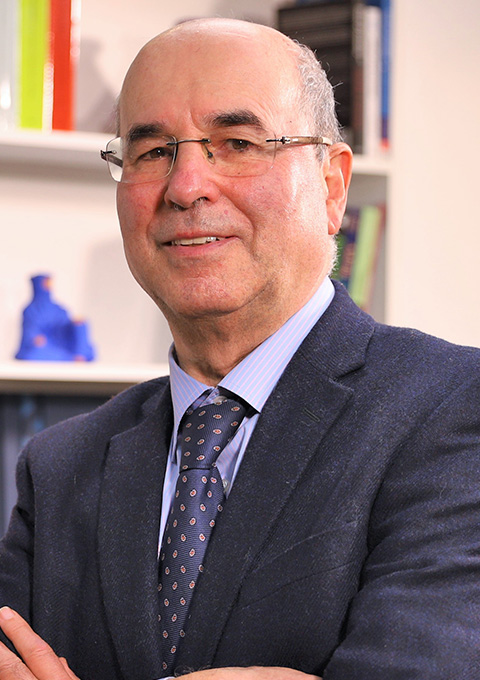 Larabi Jaïdi
Senior Fellow
Larabi Jaïdi is a Senior Fellow at the Policy Center for the New South and an Affiliate Professor at Mohammed VI Polytechnic University. His areas of expertise include international economy, economic policies, international economic relations, regional economies, social development, international relations, and Mediterranean studies. He also served on the Special Commission on the New Development Model of Morocco, a consultative body created in November 2019 to formulate the country's new developmental guidelines. Jaïdi is a former Professor at Mohamed V University in Rabat-Agdal and a founding member of both the Centre Marocain de Conjoncture and the Groupement d'Etudes et de Recherches sur la Méditerranée.   Prof. Jaïdi previously served as Advisor to the Prime Minister an ...

Mohamed Benabid
Enseignant à la Faculté de gouvernance, sciences économiques et sociales (FGSES) de l'Université Mohammed VI polytechnique
Mohamed Benabid est enseignant à la Faculté de gouvernance, sciences économiques et sociales (FGSES) de l'Université Mohammed VI polytechnique. Lauréat de l'Ecole de journalisme de Strasbourg, titulaire d'un doctorat en sciences de l'information et de la communication de l'Université Paris VIII et d'un doctorat en science de gestion de l'ISCAE, il compte à son actif près de 30 ans d'expérience dans l'industrie des médias. Son parcours pluridisciplinaire l'a conduit à couvrir depuis plusieurs années un large éventail de sujets : veille et intelligence économique, Médias/journalisme, Knowledge Management, géostratégie d'entreprise, géopolitique, communication politique, gestion et communication de crise entrepreneuriat, management stratégique, méthodologie de la recherche en sci ...

Ahmed Reda Chami
Membre de la Commission Spéciale sur le Modèle de Développement
Né le 16 mai 1961 à Casablanca, M. Ahmed Reda Chami a été nommé, le 3 décembre 2018 par Sa Majesté le Roi Mohammed VI, Président du Conseil Economique, Social et Environnemental (CESE). M. Chami est diplômé de Centrale Paris (1985) et titulaire d'un MBA de la Anderson School (UCLA).  Il a été, entre 2016 et 2019, ambassadeur du Royaume du Maroc auprès de l'Union Européenne, à Bruxelles. Auparavant, M. Chami a été ministre de l'Industrie, du Commerce et des Nouvelles technologies de 2007 à 2011, puis député de la ville de Fès, de 2011 à 2016. M. Chami a occupé plusieurs positions, dans l'assurance et dans les nouvelles technologies, notamment au sein de la multinationale Microsoft en occupant le poste de directeur général de la société en Afrique du Nord et 1997 et 2001, pré ...