High-Level Seminar on Perspectives of the Global South on MDB Reform
From
To
Add to Calendar
2023-09-11 09:00:00
2023-09-12 17:30:00
High-Level Seminar on Perspectives of the Global South on MDB Reform
Description
Location
Policy Center
Policy Center
Africa/Casablanca
public
This event is postponed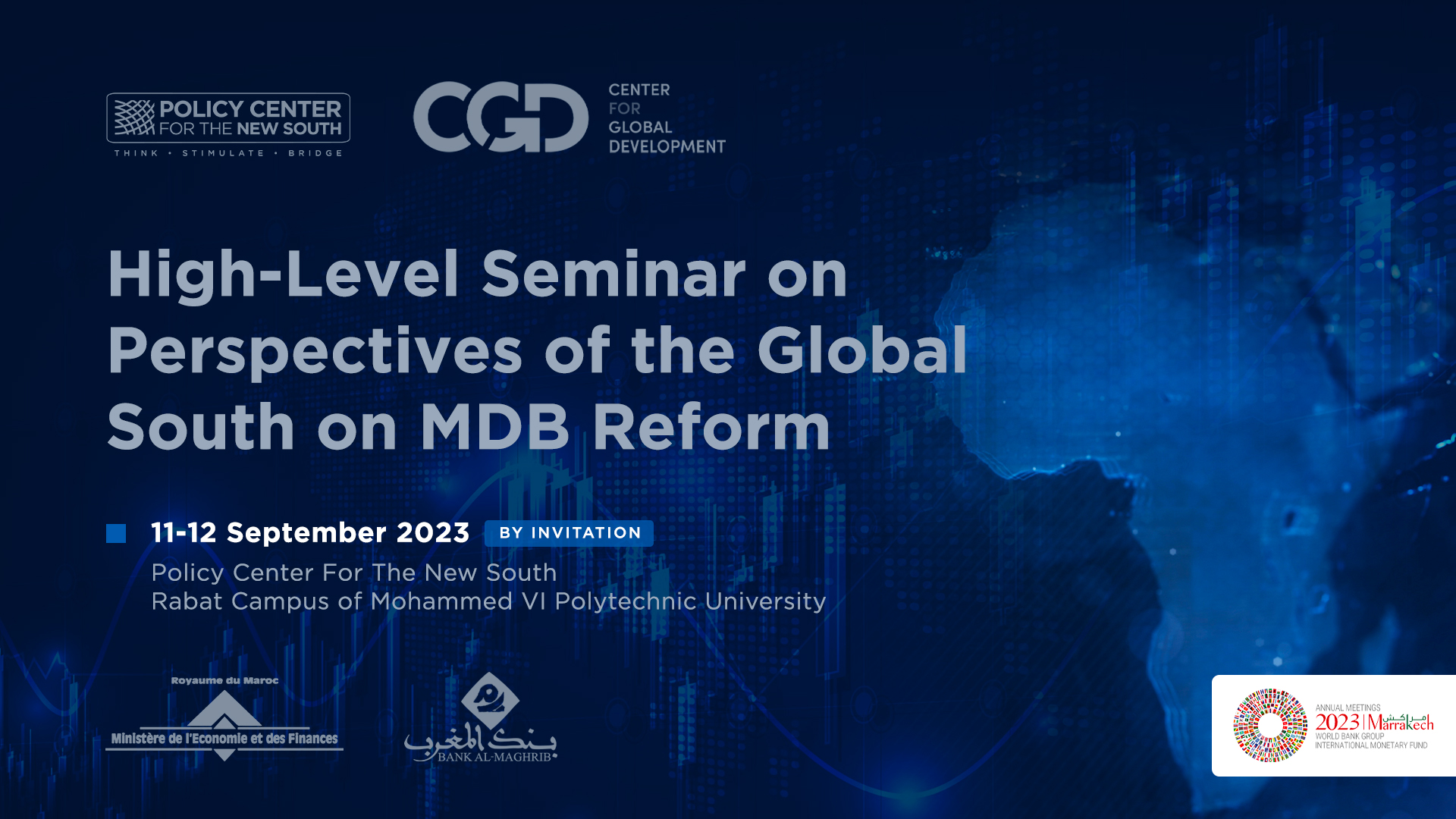 by invitation
The Policy Center for the New South (PCNS), and the Center for Global Development (CGD), are jointly organizing the High-Level Seminar on Perspectives of the Global South on MDB Reform on September 11-12, 2023 in Rabat, Morocco.
The shared challenges facing humanity have only grown more pressing and existential. From pandemics to climate change to financial distress and the looming public debt breakdown, the world is entering an era of polycrises, characterized by a multiplicity of shocks, to which countries of the Global South are most exposed. At the same time, these countries face tremendous development challenges.
There is increasing recognition that the MDBs are the most promising instrument for mobilizing needed additional financial flows for global challenges in addition to fighting poverty, but they urgently need to be revamped if they are to meet the moment. Significant reform discussions are already underway at the World Bank and key regional MDBs. But it is crucial that this reform process includes the voices and perspectives of a broad range of experts, policymakers, and other stakeholders, including from across the Global South. The perspectives of recipient countries who borrow from the MDBs should be at the heart of these debates.
PCNS and CGD are hosting this convening of academics, think tank experts, and policymakers, especially from the Global South – just after the G20 Leaders' Summit and in advance of the IMF-WB Meeting in October – to amplify the voices and input of a diverse perspectives on the MDB reform agenda. The conclusions of this gathering will feed into the Annual Meetings to be held a month later in Marrakech.
The event will cover broad principles in MDB reform as well as more specific issues, including ensuring adequate concessional financing for low-income countries, finding the right balance between national and global priorities, optimizing institutions to scale up finance for development, mobilizing private sector resources, determining how IFIs can best support middle-income countries, finding the best opportunities and mechanisms for regional and global cooperation, and more.
For more information, please contact us at: events@policycenter.ma
Livestream will be available for the plenary sessions: https://www.cgdev.org/event/high-level-seminar-perspectives-global-south-mdb-reform
Monday, 11 September 2023, 9:00 – 18:45 Conference day 1

Time

Agenda item

9h00 – 9h30

Registration and Welcome Coffee

09h30 –10h00

Opening Fireside Chat

Moderators:

- Masood Ahmed, President, Center for Global Development (CGD)

- Karim El Aynaoui, Executive President, Policy Center for the New South (PCNS)

Speaker : 

- Anna Bjerde, Managing Director of Operations, World Bank

10h00 – 11h15

Plenary Session 1 – Perspectives of Global South Leaders

Moderator: Karim El Aynaoui, Executive President, Policy Center for the New South (PCNS)

Speakers:                    

- Zainab Ahmed, Alternate Executive Director, World Bank

- Amadou Hott, Special Envoy for the Alliance for Green Infrastructure in Africa, African Development Bank (AfDB)

- Mauricio Cárdenas, Professor of Professional Practice in Global Leadership at Columbia University's School of International and Public Affairs

- Wempi Saputra, Executive Director of Southeast Asia, World Bank

11h15 – 11h45

Coffee Break

11h45 – 13h00

Plenary Session 2 – Perspectives of MDB Representatives

Moderator: Masood Ahmed, President, Center for Global Development (CGD)

Speakers:                    

- Suma Chakrabarti, Chair, ODI

- Amanda Glassman, Executive Advisor to the President, Inter-American Development Bank (IDB)

- Ed Mountfield, Vice President for Operations Policy and Country Services (OPCS), World Bank

- Sidi Ould Tah, President, Arab Bank for Economic Development in Africa (BADEA)

- Bajabulile Tshabalala, Senior Vice-President, African Development Bank (AfDB)

13h00 – 14h15

Lunch

14h30 – 15h45

Parallel Breakout Sessions

- Demand for MDB Finance: What Do Borrowing Countries Want?  

- The Global Debt Dilemma: What Role for the MDBs?  

- Can MDBs Be Climate and Development Banks?  

15h45 – 16h00

Coffee Break

16h00 – 17h15

Parallel Breakout Sessions

- How Do We Assess the "Development Effectiveness" of MDBs in the New Context?

- Do SDRs and Hybrid Capital Have a Future?

- Digital Finance and Gender Equality: What Can MDBs Deliver?  

17h15 – 17h30

Coffee Break

17h30 – 18h45

Plenary Session 3 – Private Capital Mobilization: What's Worked, What

Hasn't? 

Moderator: Nancy Lee, Director, Sustainable Development Finance, Center for Global Development (CGD)

Speakers                    

- Bertrand Badré, Managing Partner and Founder, Blue Like an Orange Sustainable Capital 

- Gary Forster, CEO, Publish What You Fund

- Nezha Hayat, Chairperson and CEO, Moroccan Authority for Capital Markets (AMMC)

- Mavis Owusu-Gyamfi, Executive Vice President, African Center for Economic Transformation (ACET)

- Hans Peter Lankes, Visiting Professor in Practice, Grantham Research Institute, London School of Economics

19h30 – 21h30

Dinner – La Tour Hassan

Tuesday, 12 September 2023, 9:00 – 17:30 Conference day 2

Time

Agenda item

09h00 – 09h30

Welcome Coffee

09h30 – 09h45

Welcoming Remarks

- Masood Ahmed, President, Center for Global Development (CGD)

- Karim El Aynaoui, Executive President, Policy Center for the New South (PCNS)

09h45 – 10h15

Keynote Address

Leila Benali, Minister of Energy Transition and Sustainable Development, Kingdom of Morocco

Welcomed by Masood Ahmed and Karim El Aynaoui

10h15 – 11h30

Plenary Session 4 – The G20 and MDB reform

Moderator: Deepak Mishra, Director and Chief Executive of the Indian Council for Research on International Economic Relations

Presenter: Anantha Nageswaran, Chief Economic Advisor to the Government of India

Speakers

- Margaret Kuhlow, Deputy Assistant Secretary, US Treasury

- Iyabo Masha, Director, G-24

- William Roos, Assistant Secretary for Multilateral, Development and Trade Affairs, French Treasury

- Wempi Saputra, Executive Director of Southeast Asia, World Bank

- Jürgen Zattler, Director-General for International Development Policy, German Federal Ministry for Economic Cooperation and Development (BMZ)

11h30 – 11h45

Coffee Break

11h45 – 13h00

Plenary Session 5 – An African Agenda for Global Financial Architecture: Will the MDBs Respond?  

Moderator: Mavis Owusu-Gyamfi, Executive Vice President, African Center for Economic Transformation (ACET)

Speakers: 

- Zainab Ahmed, Alternate Executive Director, World Bank

- Hakim Ben Hammouda, Executive Director, Global Institute 4 Transitions

- Rob Floyd, Director for Innovation and Digital Policy, African Center for Economic Transformation (ACET)

- Hanan Morsy, Deputy Executive Secretary and Chief Economist, United Nations Economic Commission for Africa (UNECA)

- Hamid Tawfiki, Deputy Chief Executive Officer, Caisse de Dépôt et Gestion, Kingdom of Morocco

13h00 – 14h15

Lunch

14h15 – 15h30

Parallel Breakout Sessions

- Role of MDBs and DFIs for Pandemic Surge and Response Financing 

- Supporting Economic Migration and Forced Displacement: The Role of MDBs

15h30 – 15h45

Coffee Break

15h45 – 16h15

Keynote Address

Nadia Fettah Alaoui, Minister of Economy and Finance, Kingdom of Morocco

Welcomed by Masood Ahmed and Karim El Aynaoui

16h15 – 16h30

Concluding Remarks

- Masood Ahmed, President, Center for Global Development (CGD)

- Karim El Aynaoui, Executive President, Policy Center for the New South (PCNS)