Energy Strategies 2023 : The Mediterranean: New Resources and Integration
From
Add to Calendar
2023-03-29 14:30:00
2023-09-24 08:28:06
Energy Strategies 2023 : The Mediterranean: New Resources and Integration
Description
Location
Policy Center
Policy Center
Africa/Casablanca
public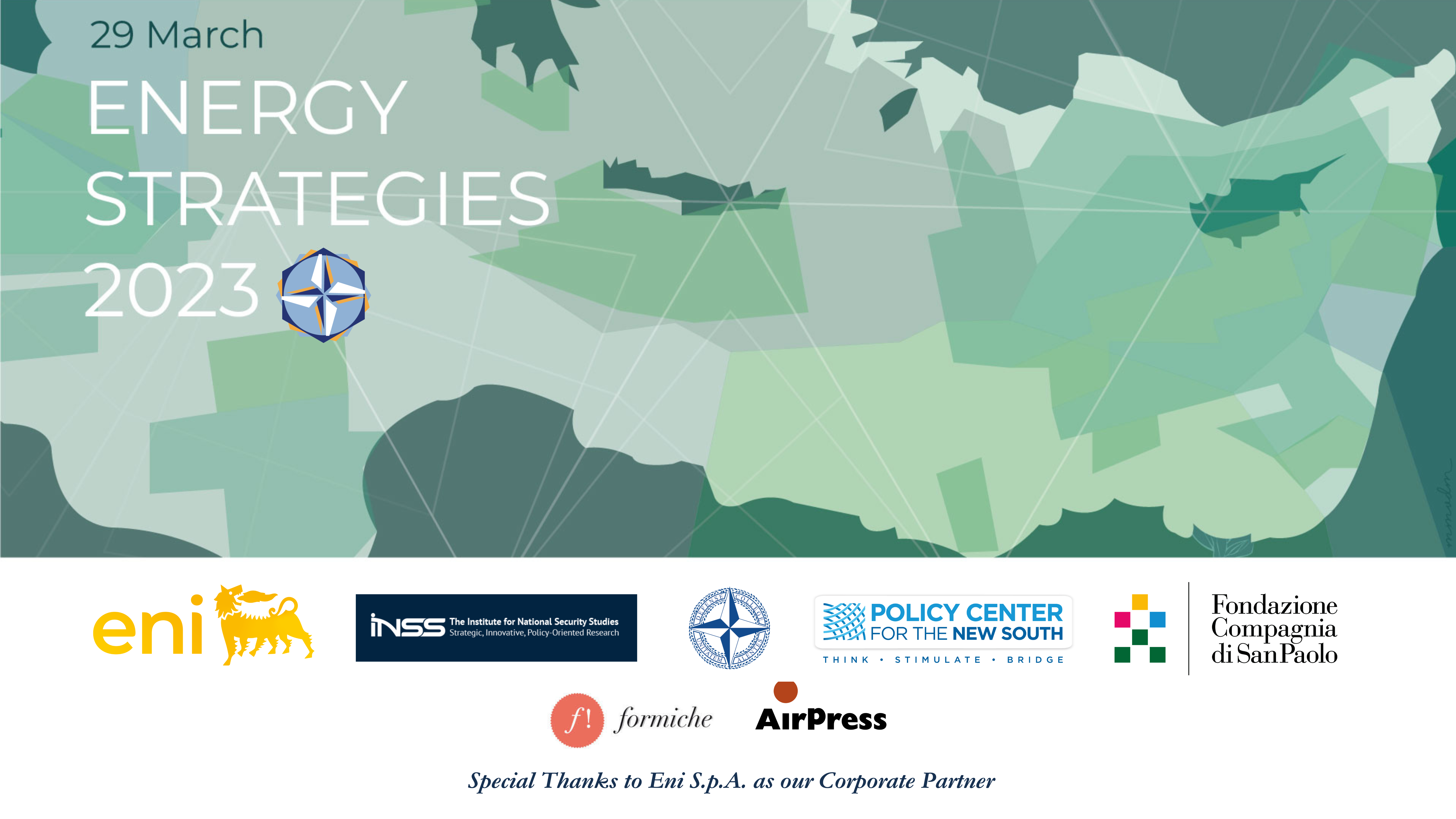 The Policy Center for the New South, the NATO Defense College Foundation, Eni S.p.A, Fondazione Compagnia di San Paolo, the Institute for National Security Studies and the NATO Defense College are co-organizing the 2023 edition of the Energy Strategies conference under the theme "The Mediterranean: New Resources and Integration". The conference will take place in Rome on Wednesday, March 29, 2023.
This conference will be an opportunity crucial issues pertaining to the Mediterranean region, such as new maps of energy diversification, energy and normalization and the challenge of market integration.
Register here: https://platform.eventboost.com/e/energy-strategies-2023/34798
*All times indicated are CEST.
14h30-14h45

Welcoming remarks

-

Alessandro Minuto-Rizzo,

President, NATO Defense College Foundation

-

Christopher Schnaubelt,

Dean, NATO Defense College

-

Nicolò Russo Perez,

Head of International Affairs, Compagnia di San Paolo

14h45-15h45   

New Maps of Energy Diversification

Chair:

- Nicola Graziani, Head of Foreign Editorial, Agenzia Giornalistica Italia

Speakers:

-

Ahmed Badr,

Director of the Project Facilitation and Support Division, International Renewable Energy Agency

-

Remi Daniel,

Mediterranean Dialogue Fellow, NATO Defense College

- Claudia Gazzini, Senior Libya Analyst, International Crisis Group

Q&A session

15h45-16h15

Coffee break

16h15-17h30   

Energy and Normalisation: Progress Ahead

Chair:

- Mehmet Öğütçü, Chairman, London Energy Club

Speakers:

-

Ashraf Mohamed Keshk,

Research Fellow and Head of Strategic & International Studies, Derasat

- Grammenos Mastrojeni, Deputy Secretary General for Energy and Climate Action, Union for the Mediterranean ·
- Marco Piredda, Vice Chairman, Energy Transition Committee, Observatoire Méditerranéen de l'Energie

Q&A session

17h30-17h40   

Special Intervention

- Pasquale Ferrara, Director General, Directorate General for Political Affairs and Security, Ministry of Foreign Affairs and International Cooperation

17h40-18h00   

Coffee break

18h00-19h00   

The Challenge of Market Integration

Chair:

- Alon Badr, Ambassador of Israel to Italy

Speakers:

-

Ahmet Evin,

Founding Dean, Faculty of Arts and Social Sciences and Professor Emeritus, Sabancı University

-

Rim Berahab,

Senior Economist, Policy Center for the New South

-

Leonardo Bellodi,

Adjunct Professor, Luiss Business School

Q&A session

19h00-19h10   

Concluding remarks

- Alfio Giuseppe Rapisarda, Head of Global Security, ENI