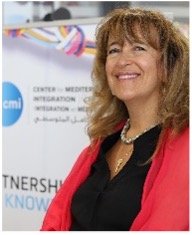 Blanca Moreno-Dodson
Directrice, CMI/UNOPS
This individual is not a direct affiliate of the Policy Center for the New South. They have contributed to one or more of our events, publications, or projects. Please contact the individual at their home institution.
Dr. Blanca Moreno-Dodson est la directrice du Centre pour l'intégration en Méditerranée (CMI), un partenariat entre plusieurs institutions multilatérales de développement, des gouvernements nationaux, des autorités locales et régionales, ainsi que la société civile du pourtour méditerranéen. Le CMI est hébergé par le Bureau des Nations Unies pour les services d'appui aux projets (UNOPS).
Elle a plus de vingt-huit ans d'expérience en tant qu'économiste du développement à la Banque mondiale, y compris plusieurs postes d'économiste en chef, principalement pour l'équipe fiscale mondiale, la région Afrique de l'Ouest, le Département du climat d'investissement et le bureau du vice-président pour la réduction de la pauvreté et la gestion économique. En tant qu'économiste principale, elle a précédemment travaillé à l'Institut de la Banque mondiale, dans la région de l'Afrique de l'Ouest et au Groupe de stratégie d'entreprise de la Banque mondiale. Son expérience régionale comprend le Moyen-Orient et l'Afrique du Nord, l'Amérique latine et les Caraïbes, l'Afrique subsaharienne et l'Asie de l'Est (Chine, Inde et Indonésie). Elle a débuté sa carrière en tant que chercheuse Robert Shuman au Parlement européen et en tant qu'économiste junior à la Commission européenne, avant de rejoindre le Groupe de la Banque mondiale.
Moreno-Dodson a écrit et co-écrit cinq livres tout au long de sa carrière, dont « Enhancing Mediterranean Integration » (CMI, 2020), « Winning the Tax Wars, Tax Competition and Cooperation » (Wolters Kluwer, 2017), « Is Fiscal Policy the Answer? A Developing Country Perspective » (Banque mondiale, 2013), « Public Finance for Poverty Reduction. Études de cas pour l'Afrique et l'Amérique latine » (Banque mondiale, 2006) et « Scaling Up Poverty Reduction » (Banque mondiale, 2005). Elle a également été publiée dans plusieurs revues économiques de renommée internationale, telles que le Bulletin of Economic Research, Hacienda Pública Española, le USA National Tax Association Journal et la Banca d'Italia Annual Volumes.
Elle est membre du Conseil Stratégique des Alumni de l'Université Aix-Marseille, France, et du Comité de Pilotage du Navarra Center for International Development, Espagne, et conférencière invitée à Duke University, USA, et Aix-Marseille University, France.
Moreno-Dodson est titulaire d'un doctorat ainsi que d'un Master (Diplôme d'Etudes Approfondies) en économie et finance internationales de l'Université d'Aix-Marseille, en France, en plus d'une maîtrise (Licenciatura) en économie de l'Université autonome de Madrid, en Espagne. Originaire de Saragosse, en Espagne, elle parle couramment l'espagnol, le français, l'anglais et le portugais.